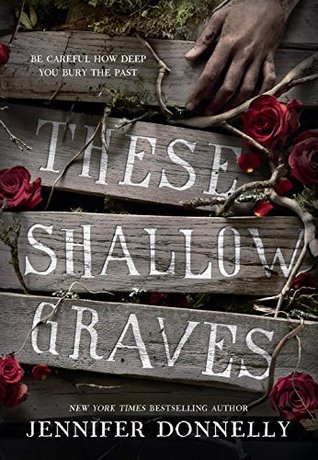 Secrets bind people together, as well as drive them apart as the stress of maintaining the matter hidden becomes increasingly worse. When curiosity gets the better of you, it's easy to get caught up in the desire to know exactly what happened, as it does in Jennifer Donnelly's These Shallow Graves.
Jo Montfort is a wealthy young lady in late nineteenth century New York City whose life seems planned out with her attendance at finishing school and an easily foreseen marriage to her long time friend and wealthy bachelor, Bram Aldrich. But Jo's seemingly perfectly planned life is derailed when her father is found dead of a gunshot wound in his study. The mystery of her father's untimely and out-of-character apparent suicide drives Jo to find answers and the truth, even if it means being less than lady-like. With the help of reporter Eddie Gallagher, Jo investigates her father's death and the larger mystery of her father's shipping firm's role in his death. Unraveling the mystery introduces Jo to many new aspects of life, and herself, that make her question her life previously.
The story was an enjoyable read as both a coming of age and a crime story; it built rather well to a climax and dealt with the resolution nicely. The somewhat open ending with Jo and Eddie avoids the contrived and popular "happily ever after" ending, which I rather liked. There was some behavior, particularly out of Jo, that seemed a tad unrealistic, but with an appropriate level of suspension of disbelief, it works, although toward the end the narrative became heavy-handed with freedom of women. I received an ARC of this book for this review, so there may still be time for a thorough copy-editing for some of the consistent grammatical and punctuation issues that were strewn through the text.
Overall, I'd give it a 4 out of 5 stars.