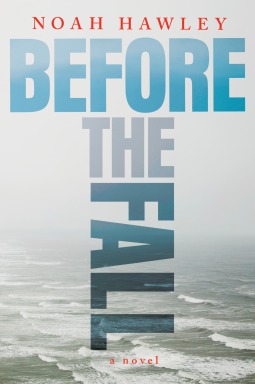 Serendipity. Generally this word is thought of positively, but there are times when the seemingly happy circumstances that develop lead to a tragedy, such as the one depicted in Before the Fall by Noah Hawley.
When you board a plane you expect that you'll arrive at your destination without much trouble, placing your life in the capable hands of the pilots, and further so when you have a private plane at your disposal. When the Bateman family of four, their high-profile guests Ben and Sarah Kipling, and Martha's Vineyard artist acquaintance Scott Burroughs takes the quick flight from the Vineyard to New York City, they would never have imagined that they'd be the victims of a perplexing plane crash. As the sole survivors of the crash after managing to swim 10 miles to shore, Scott and four year old JJ Bateman become the focus of news reporting as teams work at discovering what caused the plane to crash: mechanical failure, terrorist attack, or some other foul play.
The story is an intriguing glimpse into the lives of the passengers and crew of the plane and each character is able to offer some new piece to the story of what actually happened, with the mystery finally, and craftily, revealed within the last few pages. Some of the descriptions of characters' pasts when interspersed with the current recall of events leading up to the crash felt disjointed, as if a particular paragraph would have been better suited at a different point in the chapter. The writing style and voice presented throughout the novel was good and keeps you glued to the story, drawing you further in to find out what caused the plane to crash.
Overall, I'd give it a 4 out of 5 stars.
*I received this ARC via NetGalley for this review.