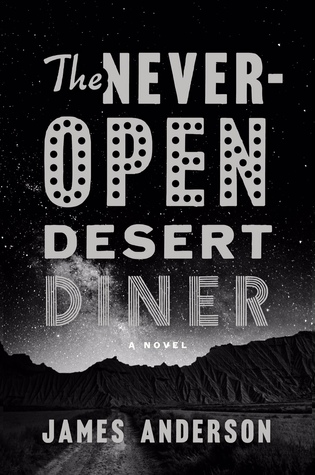 The desert, a long road, and interesting characters who like to keep to themselves. That's what you'll find along Route 117 in James Anderson's The Never-Open Desert Diner. 
Ben Jones drives his truck along Route 117 in Utah delivering to the folks along the way. A somewhat famous feature along this route is a once-famous diner that has an owner, Walt Butterfield, who would rather not interact with others and when he does, he does so in a not-so-friendly manner. When Ben makes a delivery that piques his interest in Walt's rarely open diner, Ben becomes entangled in a story of a woman, Claire, who is living in the abandoned Desert Home community and playing a cello, that changes his life.
The narrative was engaging and has a slightly western-genre feel to it. Some of the story trajectory was a little too familiar and easy to predict, but that also helped to more quickly move the narrative along when it dragged a little. It offers an interesting perspective of an "outsider's" detailed view of and relationship with the Utah desert coming from a narrator of partial Native American descent who isn't part of the Mormon doctrine yet falls into the category of a fundamentally good guy.
Overall, I'd give it a 3.5 out of 5 stars.
*I received this book from Blogging for Books for this review.