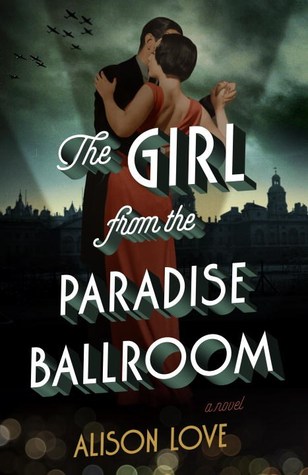 A dancer and a singer have a chance meeting that alters their lives irrevocably in Alison Love's The Girl from the Paradise Ballroom. 
Olivia is a tango dancer at the Paradise Ballroom. Antonio is an amateur singer who performs in various clubs and ballrooms. When Antonio and Olivia meet backstage at the Paradise Ballroom, a spark ignites between them, but circumstances, in the form of Antonio's wife and child, get in the way of anything coming to fruition from their initial attraction. A year after they initially meet, their lives are drawn together again when Antonio has Olivia's husband Bernard as his benefactor for singing lessons. As their affair gets underway so too does the unpleasant business of World War II, which rends them apart permanently, leaving only a small part of them to live on in the memory of the other.
The narrative moves along at a decent clip and the years pass rather quickly. The story is one that is easy to recognize and relate to as forbidden love, but its excessive flair for the dramatic was a little too much to take at times, particularly given the seriousness of the situation of World War II and the internment of citizens. Similarly, the description of the book plays up Antonio and Olivia's romance as something far greater than it actually is, and while the war did play a role in the story, it was used as more of a convenient way to force the plot along rather than driving the plot.
Overall, I'd give it a 3 out of 5 stars.
*I received this book from Blogging for Books for this review.