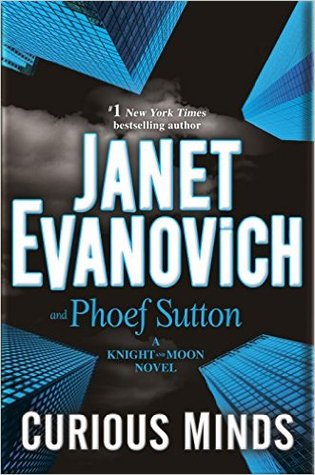 Eccentric characters and a nefarious plot. These are things that tend to get our attention, so it's a no-brainer that they're included in Curious Minds by Janet Evanovich and Phoef Sutton.
Riley Moon just landed her ideal job, after earning her two advanced degrees, at the mega-bank Blane-Grunwald. Emerson Knight is an eccentric whose vast fortune is held at Blane-Grunwald. When Riley is directed to quell Emerson's fears after his account representative goes missing, she gets pulled into Emerson's wild plot to get to the bottom of this disappearance, which includes gold, shady businessmen, and Area 51 (naturally).
This story and the characters have a very Sherlockian feel to it, which is a benefit because it makes it easier to follow and understand the characters, but it is also a detriment because it then feels too formulaic and predictable, making this a sufficient beach read. The narrative is quickly paced and infused with plenty of humor, but the almost excessive humor pulled me out of the mystery aspect of the story (which in itself was far too predictable).
Overall, I'd give it a 3 out of 5 stars.