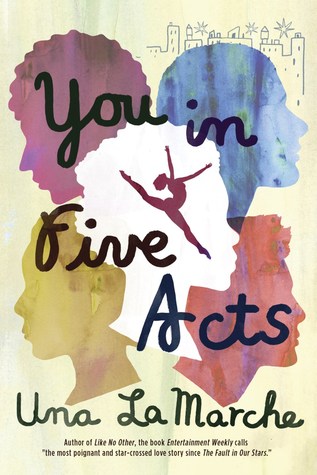 While normal high school is tough, performing arts high schools have an added level of pressure to achieve greatness to solidify your future. Una LaMarche's You in Five Acts explores a life-changing time in a group of five friends.
A group of five friends work hard toward the respective stardoms they have their eyes on, but the stresses and pressures to succeed and the unexpected romantic emotions rising to the surface begin to fracture the shiny future they envision for themselves. Joy and Diego are working against stereotyped ballet images as they try to become part of a company while Liv, Ethan, and Dave are struggling with a love triangle and Liv's obscured destructive actions while trying to put on Ethan's original play. As all their actions build upon one another, the cumulative resulting event drastically alters their lives.
The characters were fairly well developed and the writing was pretty good but the developmental aspects to the narrative weren't as well-thought out as it could have been. The story was building itself toward the self-destruction of Liv due to her drug habit but then the ending abruptly shifted to the death of Diego; while it was clear that there was going to be a death, the twist wasn't well executed, despite the few foreshadowing attempts peppered throughout, and it ultimately felt too heavy-handed. It was an interesting tactic to utilize second person, with each of the characters' point of views addressing their respective "you," but it was a bit disorienting to have to remember which "you" they were talking to, which again goes back to the development of the narrative.
Overall, I'd give it a 2.5 out of 5 stars.