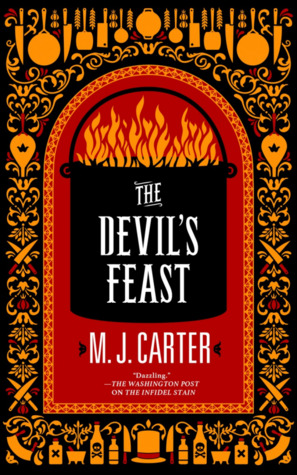 Food. That delicious sustenance that perpetuates life…unless you're some of the unfortunate victims in The Devil's Feast by M.J. Carter.
Captain William Avery is attending to some business in London and catching up with friend and mentor Jeremiah Blake when he finds himself in the middle of a suspicious string of deaths by poisoning being kept quite at a club that's noted for its famous French chef Alexis Soyer. Investigating the deaths, Avery, who is primarily on his own due to Blake's fugitive status, learns of the various political and personal grudges to be found within the kitchen. Each of these grudges provides a potential motive to commit these poisonings, but Avery strives to find out the truth before an important political dinner takes place at the club.
Filled with lots of details, which demonstrates the level of research involved in crafting this mystery, the story withheld the culprit's identity until the very last moment, providing plenty of plausible false leads along the way. While there was lots of description given to dishes, clothing, and people's actions, there wasn't a lot in the way of an actual plot until Blake reappears to help move matters along. The inclusion of Thackeray as a character, albeit minor, piqued my interest since I was an English major. I found the fact that The Lancet was mentioned interesting since I work in academic journals publishing and am familiar with the title. Having not read the other books in this series, I didn't feel that I was missing out on too much backstory information; however, there were instances where having ready previous installments might have been helpful in better understanding what was being referenced.
Overall, I'd give it a 3.5 out of 5 stars.