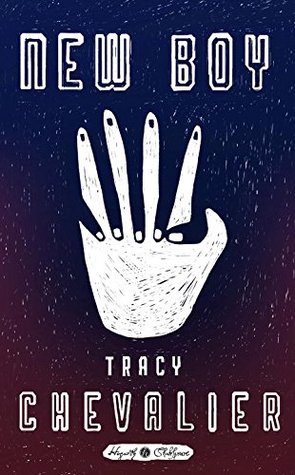 Playgrounds are fascinating studies as a place where familiar social ecosystems develop among children. New Boy by Tracy Chevalier follows the story of a boy's first day at a new school.
It's Osei's first day at a new school in Washington, D.C. Not only is he the new boy, he's also the only black child in the school. Dee, a teacher favorite, is partnered up with Osei, or more easily called O, to help get him up to speed with the classroom procedures and lessons. The children in this sixth grade class spend a fair amount of time before, during, and after school on their playground, where there are rules that seem to govern how people behave. With the emotions raging, O and Dee quickly become enamored with one another, to the annoyance of Ian. As Ian works to keep his surroundings working to his advantage, he schemes to undermine O and Dee's budding relationship, not caring about the repercussions.
Placing the emotionally charged Othello in a schoolyard setting makes a lot of sense given the tendency toward rather childish attitudes and antics presented in the original play. The deviousness of Ian's actions and the complicity of the children trying to fit in or survive relatively unscathed were well-depicted and elicited the universal feeling and experience of the play quite well. Setting the story in the 1970s helped to convey unease toward racial differences that were portrayed in the original. I found it a little difficult to believe that so much turmoil took place on just one day, as there was a fair amount of relatively elaborate scheming going on and events in Othello took a longer time to develop and fester, but in demonstrating with the quick and sometimes fleeting nature of children's emotions, it is still mildly believable.
Overall, I'd give it a 3.5 out of 5 stars.